Investment Highlights
An opportunity to invest in the rapidly growing global electric vehicle market.
Utilising a proven subscription business model incorporating hardware, software, add-ons and extensions.
A clear pathway to $100m annualised recurring revenue.
A strong global team with significant industry and management experience.
An established international manufacturing supply chain, with sales, marketing and distribution in each key market and complete product assembly in the US
A 5th generation production vehicle with global homologation for on-road use.
A fully integrated cloud-based user and fleet management system.
A business that has built a strong brand and a global following.
UBCO is seeking to raise up to $15M from wholesale investors via a Convertible Note which is linked to a $20M Series B raise. The Convertible Note will accrue interest at an annual rate of 10% and convert into shares at a share price based on the lower of a 25% discount to a Series B valuation and a valuation cap of $50M. Further information on the convertible note terms is found on the 'Offer' tab.
Introduction
UBCO - Power Your Purpose
The simple definition of Utility is 'the state of being useful, profitable, or beneficial'. A perfect definition of what we want our utility vehicles to be.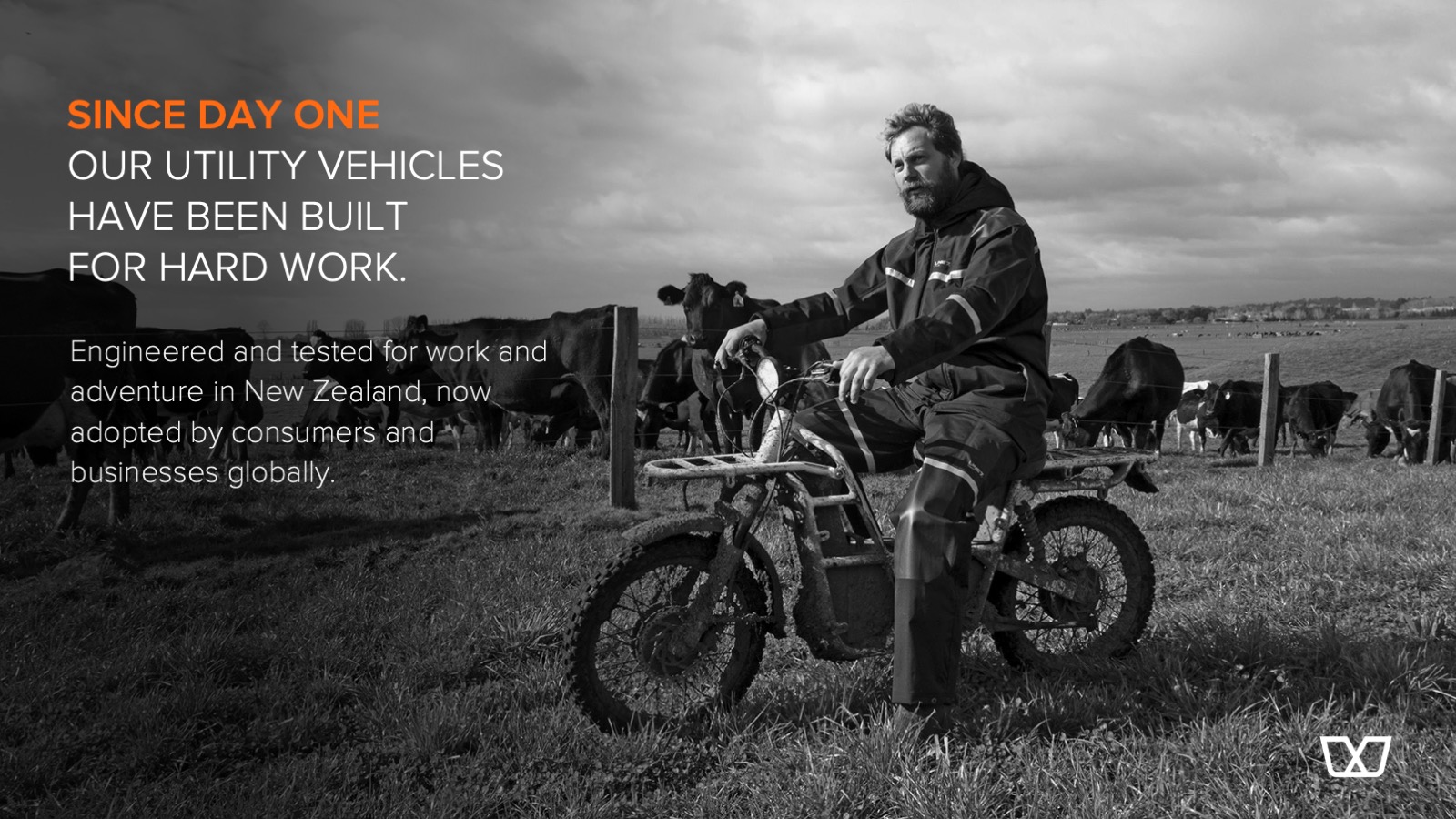 Born day one to meet the daily needs of farmers and adventurers across NZ, our utility vehicles have been built for rugged hard work and simplicity.
At UBCO we want to power your purpose for work and fun. Provide power to move and to do things every day. Enable people to do inspiring stuff: take inspirational journeys, explore our planet and to work smarter and safer. People want a better world, and we want our products to make a difference in it.
Our goal and how we achieve this is: "To accelerate the global transition to electric mobility by designing the world's toughest electric utility vehicles that are effortless, safe, intelligent, and affordable." We are well on our way towards this, with UBCO bikes having been ridden all over the world, from snow-clad mountains and remote deserts to farms, forests, and coastlines.
Founded in 2015 and launched in 2017, UBCO now has customers spanning the world and is positioned as a leader to execute on the massive opportunity across consumer and business delivery.
The award-winning journey has seen us solve the biggest challenges to ensure we have a loved product and are ready to scale globally.
Customers needed to take vehicles on road, so we developed and released our first homologated road legal product in 2018. This included a big step in technology with a new Electronic Control Unit (ECU), Automatic Over-the-Air (OTA) software updates and a digitally connected application for diagnostics and control. We are now certified for road use in Australia, NZ, US, UK and Europe.
In 2020 we delivered our first enterprise fleet through Domino's Pizza in NZ, which included the UBCO cloud fleet portal. UBCO has weathered the COVID storm and is well positioned to execute a truly global opportunity in consumer and enterprise fleets, as well as bring additional products and technology to market in the future.
UBCO is headquartered in NZ but we are a truly global company. We have sales, marketing and distribution in each of our key markets, as well as a world-class manufacturing supply chain, including complete product assembly in the US.
We have comprehensive capabilities in place with a connected platform that gives direct feedback to accelerate innovation from vehicle design and engineering, scalable manufacturing, software engineering, distribution and online servicing and monitoring and performance analytics.
Current Stage of Business
We have reached a landmark point in the UBCO growth journey, having made considerable progress accelerating the transition to electric mobility by making the world's toughest electric utility vehicles. Our 2X2 bikes are loved by our customers and have already stacked up millions of kilometres worldwide.
COVID-19 has accelerated UBCO's drive to go 100% digital across sales, training, service and customer support, realising significant efficiencies internally, and an enhanced experience for customers.
It has also accelerated the underlying expansion of delivery fleets in all of our key markets. This year, we closed a major food delivery enterprise in NZ on a subscription basis and are now rolling this out globally. We are also engaged in discussions with a number of large international companies that are in various stages of changing out their combustion engine delivery fleets. One of these opportunities alone represents more bikes than double the entire sales history of UBCO.
Company Timeline
Our global team draws from world class experience and skills that cover deep tech, product commercialisation, sales, marketing, manufacturing and distribution.