Sustainable Foods partners with My Food Bag
We can now confirm that plan*t will be launching nationally with the amazing team at My Food Bag. Now Sustainable Food's delicious NZ-made, plan*t-based sustainable foods, will be able to be delivered to homes throughout Aotearoa. plan*t will be a fixed option to meet the growing demand from My Food Bag's flexitarian, vegetarian and vegan customers who want a plant based product to swap in.
This includes the following products from the plan*t product range:
Sage & Onion Sausages
Crispy Chick*n Patties
Plan*t Meatballs
Hemp Chicken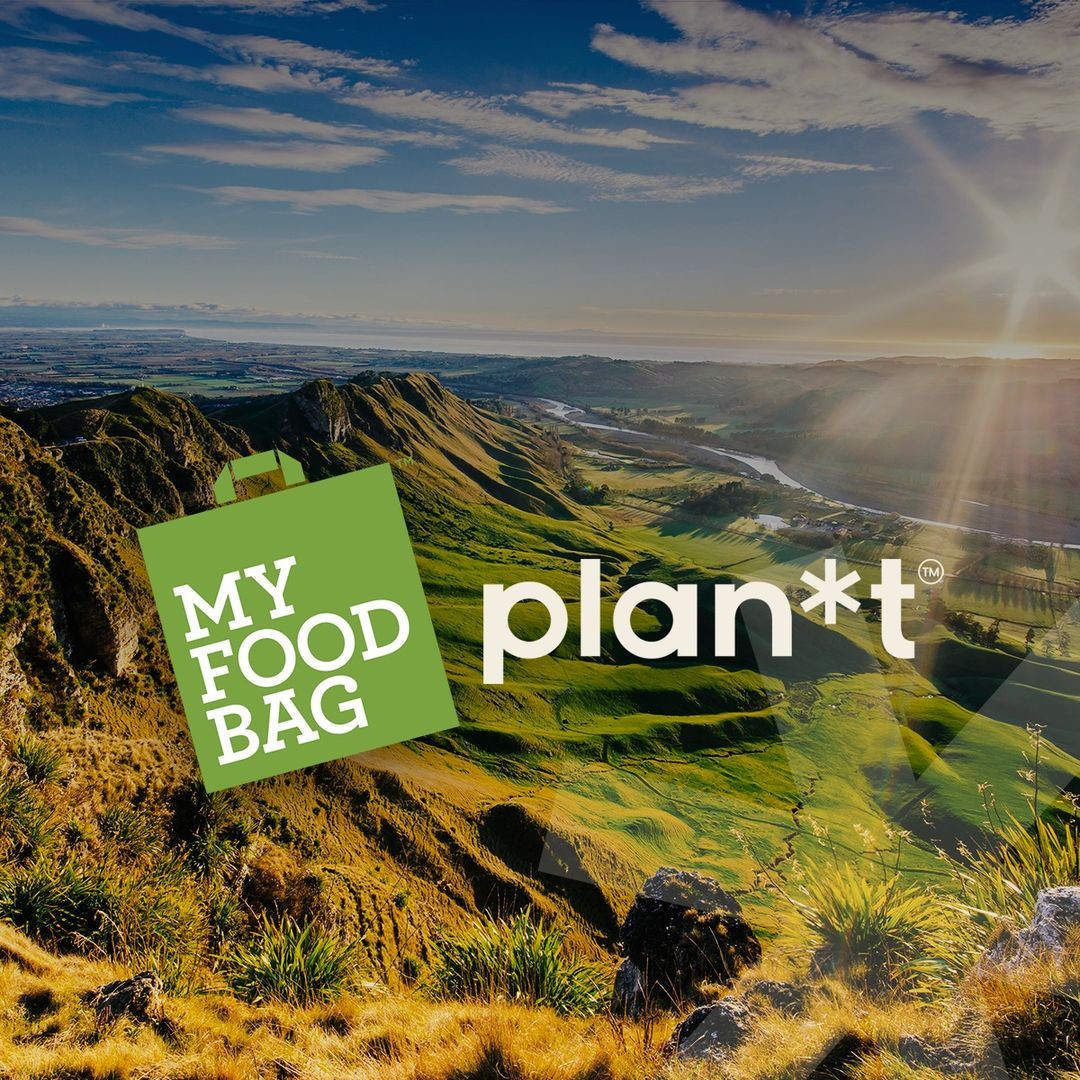 TJ Perenara backs Sustainable Foods
We are thrilled to announce that Sustainable Foods has secured famous international rugby halfback and committed vegan TJ Perenara as our newest plan*t brand ambassador, long term partner and investor.
TJ originally adopted a vegetarian diet in 2016 then became vegan in 2019 after the Rugby World Cup. Originally, his reasons were ethical, but as an athlete, the health benefits he experienced were a huge bonus. We are extremely excited to have TJ on board as a like-minded partner that shares in our vision.
"Being vegetarian and vegan for more than 5 years, I wanted to be part of a project that enables me to have an impact in this space. Sustainable Foods has a definite edge being on the ground here in New Zealand. When the opportunity to invest and be part of the team came up, I jumped at it." – TJ Perenar

Read more about the announcement
Introduction to Sustainable Foods
Message from the Founders
What if we could develop delicious plant-based protein foods as tasty alternatives, that more people would choose to eat regularly?
As co-founders of Sustainable Foods we believe we have an opportunity to make a real difference for current and future generations. We have 40 years combined experience in food manufacturing and hospitality and have been working together for 11 years.
We have been creating new, tasty and innovative real food for our customers for over 20 years and while we've always had a focus on quality and ethical sourcing, and ranges of vegetarian products, we realised we wanted to do more.
With our families and personal diets already changing, several years back, we saw this change aligning in the market. With consumer preferences reflecting a growing awareness around nutrition and sustainability. The more we read, engaged and experimented, the more committed we became to making sustainable, plant-based products our focus.
After years of eating imported options ourselves, we knew there was an opportunity for us to create high quality plant-based products in New Zealand, and celebrate and amazing provenance of sustainability production that cares for our environment.
We have a deep commitment to personal health and sustainability. We want to scale our business to impact on our futures locally and globally. Our products are all about 'Nourishing individuals', "Nurturing our planet' and fulfilling our responsibility towards Kaitiakitanga - guardianship of our environment and people.
Our tasty food is NZ-made, using thoughtfully sourced, natural ingredients supported by certified sourcing and measurement, and we are committed to ongoing product innovation to continue our leadership in this space.
We believe in empowering conscious consumption choices without compromising the eating experience or nutrition. We want to give our customers access to great plant-based protein options, that are nutritious, taste great and are produced sustainably for our planet!
Looking back at the last 12 months we are amazed and humbled at what we've accomplished – launching new products, being shortlisted for and winning multiple awards both in NZ and internationally and securing new ranging and contracts – great recognitions for our team. We've done this while establishing a world class manufacturing facility and delivering significant growth.
At Sustainable Foods we are focused on business with a greater purpose. Creating and innovating more sustainable food, building new ideas and always striving for improvement.
We are excited about path ahead and have lots more to do including strengthening our ingredient sourcing with NZ growing partnerships, furthering our sustainability initiatives and collaborating with our community. We're ready for the next stage and hope to have you along for the journey!
We believe it is possible to both eat well and ensure future generations enjoy our wondrous planet. We can nourish ourselves while nurturing our planet.
Ngā mihi nui ki a kotou.
Justin and Kyran
Executive Summary
Sustainable Foods Limited's (SFL) vision is to be a leading innovator and provider of delicious nutrition-rich, plant-based protein options that help consumers eat more sustainably. The company offers a portfolio of revolutionary products under their plan*t brand, that are nutritious, flavourful and sustainable.
Sustainable Foods believes it is possible to both eat well and ensure our future generations get to enjoy the wondrous planet as we do today. To truly deliver on that belief consumers need to be able to choose delicious plant-based food alternatives.
Fresh from winning the highly contested NZ Artisan Awards Chilled and Deli Category, and the 2021 New Zealand Vegan Society Best Banger award, Sustainable Food's products include mince, burgers, sausages (red meat alternatives) along with white meat alternatives such as natural hemp chick*n, nuggets, tenders and southern fried chick*n. Sustainable Foods plan*t products are made from plant-based proteins or PBP which replicate the taste, texture and eating experiences of animal-based protein.
Sustainable Foods takes pride in where and how they source ingredients and implement sustainable business practices throughout the supply chain. All plan*t products are made from:
Natural minimally processed foods
Novel ingredients like New Zealand grown Hemp - a world first
Pea and Soy proteins
The global plant-based protein market size is projected to grow strongly with the global plant-based meat market expected to reach USD 35.4 billion by 2027 according to a new study conducted by Polaris Market Research - this represents a CAGR of 15.8%. Today PBP makes up 1% of overall demand for meat protein. This is projected to reach between 11-22% by 2035.
The alternate protein and PBP market in New Zealand has been developing at a moderate rate offering consumers new options from the traditional offerings of tofu and vegetarian sausages. While the local market is hard to value given its infancy, the closest comparable is the chilled vegetarian products market which is worth $38m and includes retail alternate protein. The foodservice market is estimated to add another third to this market size.
Market growth is being driven by consumer awareness of the health concerns and environmental and animal-welfare impacts of animal-based meat consumption has resulted in a surge in demand for ethical and kinder living choices available through plant-based protein alternatives. Consumers are keen to explore alternatives that don't require them to compromise on taste or dramatically change lifestyles.
PBP products are projected to have the highest growth in the next 5-10 years out of all the alternative protein options; this can be attributed to the progress in product development along with consumer acceptance of PBP as a source of protein.
Operating since 2018, Sustainable Foods initially launched in partnership with The Craft Meat Company Limited and in January 2020 SFL acquired full ownership. SFL achieved revenue of $606k in FY21 and is targeting $1.5m+ for FY22 based on year-to-date revenue of $980k from 1 April to to 31 December 2021.
With established sales channels with Foodstuffs, Progressive Enterprises, the three main Food Service Distributors as well as the QSR brands such as Hell Pizza, Burger Wisconsin, Tank Juice and Gorilla Burger, the business also recently consolidated production sites to a world class, scalable facility in kapiti which will enable them to meet demand from their target customers - being flexitarians and meat reducers that make up an estimated 30% of the population.
Sustainable Foods has built the base capability, product, production, brand, sales channels, and business relationships and has an expert team in place to accelerate growth. They are now raising $1.5m of new capital to support the following:
Locally sourced story:
Develop NZ-grown, market-leading, nutritious plant-based protein ingredient and value-add products working with related ecosystems.
Build a scalable plant-based protein business that delivers strong growth in domestic and international markets.
NPD pipeline:
Use novel protein ingredient innovation to fuel the release of new products.
Marketing:
Grow the NZ market size for plant-based protein through consumer awareness, education, and leadership. Work with identified partners/distributors internationally.
Sustainability:
Develop a sustainability framework that measures and communicates Sustainable Foods' sustainability performance. As kaitiaki (guardians) of our planet, Sustainable Foods embraces a "field-to-plate" approach which drives our choices around our ingredient sourcing, production, packaging, and our ecosystem & partnerships.
Team:
Grow our experienced and motivated team domestically and internationally to deliver to the business plan resulting in a triple bottom line outcome.
The Opportunity
The opportunity that we have in front of us is being driven by three key themes, population growth outpacing food supply, the environmental impact of meat production and consumer trends.
While the global meat products market is expected to grow from $838.25 billion in 2020 to $1,157.55 billion in 2025 at a CAGR of 7%, largely driven by population growth, the alternative meat market is set for more rapid growth in the coming years. It is estimated to make up 1% of overall "meat" protein demand today and is projected to be between 11-22% by 2035.
Population Growth Outpaces Food Supply
The world's population has grown to reach 7.9 billion and is expected to surge to 9.6 billion by 2050, leading to a massive need to increase food production volumes.
Globally, we consume over 300 million metric tons of meat every year, which is more than double that of what was consumed in 1990. By weight, poultry is now the most consumed meat type worldwide (131.2 m metric tons), followed by Pork (106.3m metric tons), Beef (70.9m metric tons) and Lamb (15.5m metric tons). However, proteins are not evenly distributed across the world and are disproportionately consumed in first world and emerging economies.
It is estimated we need a 69% increase in food calories to be produced to feed 9.6 billion equitably - producers still face a massive deficit between current food production levels and future food production requirements.
Emerging markets are driving this growth: China, in particular, is the world's largest consumer of meat, with protein consumption expected to grow by around 4% a year due to its rising middle class. China alone was estimated to have consumed more than 40 million metric tons of pork in 2020 which is more than double the amount consumed across the entire European Union. India is on track to becoming the world's largest middle class consumer market, forecast to surpass both China and the U.S by 2030. In aggregate, China and India will represent roughly two-thirds of the global middle-class population and 59% of middle-class consumption. Countries such as Indonesia, Pakistan, Bangladesh, Philippines and Vietnam are following similar trajectories with a rapidly growing percentage of middle class expected to drive meat consumption.
While the Covid-19 pandemic had a disruptive impact on global meat consumption, the increasing global demand for protein has created challenges for feeding future generations, and meatless alternatives are helping to fill the gap.
Alternative protein sources can reduce the negative environmental impact of meat production
It is well recorded that several factors related to the production of meat contribute to global environmental damage, including increased greenhouse gas emissions, deforestation, biodiversity loss/soil degradation and mass water usage - all contributing to climate change.
Food accounts for over a quarter (26%) of global greenhouse gas emissions;
Half of the world's habitable (ice and desert-free) land is used for agriculture;
70% of global freshwater withdrawals are used for agriculture;
78% of global ocean and freshwater eutrophication (the pollution of waterways with nutrient-rich pollutants) is caused by agriculture;
94% of mammal biomass (excluding humans) is livestock. This means livestock outweigh wild mammals by a factor of 15-to-1.9 Meat and dairy provide just 18% of calories and 37% of protein that feeds the globe, however, it uses the vast majority (83%) of farmland and produces 60% of agriculture's greenhouse gas emissions.
Meat is the biggest contributor to environmental damage caused by food production and reducing meat consumption is the one of the best ways consumers can reduce their environmental impact on the planet.
Plant based protein uses 47%–99% less land and water resources to produce than meat which is leading a large number of consumers to seek out meat alternatives that are also protein rich.
Consumer Trends
The world is changing and the plant-based food segment is one of the fastest growing consumer trends the world is seeing today. As a result, protein-rich and plant-based products are in high demand.
Consumers look to plant-based protein for a combination of reasons that are outlined below.
Health benefits - Consumers are trying to eat more plant-based foods due to the increasing evidence that plants are better for the body than animal products while also meeting nutrition requirements. For example, plant protein is associated with a lower risk of cardiovascular disease mortality.
Sustainability and environmentally friendly - Consumers are increasingly making food choices based on sustainability and environmental impact. There's been a major push in recent years to highlight the negative environmental effects associated with meat production and consumption.
Increase protein intake while reducing meat consumption - Protein supports an active lifestyle and can help to build muscle. In recent years, the rise of diets that push for high protein and low carbs have helped drive protein demand. Consumers are looking for protein alternatives to replace animal protein.
Results from a number of global studies have found that nearly half (48%) of all consumers look for foods and drinks labeled "plant-based". Additionally, one- quarter of adults say they are eating more plant protein than they did in 2020,twenty-nine percent of adults eat meat alternatives at least once a month or more often, 40% of those aged 18–44 do so, and one-third of restaurant diners aged 18–34 are increasingly seeking out vegetarian/vegan options as a first choice on menus.
Types of Alternative Protein
The primary types of alternative proteins fit broadly into three categories:
ANALOGUE ALTERNATES
Plant-based proteins or PBP are produced to replicate the taste, texture and eating experiences of meat, dairy and seafood – this alternate protein has dominated investment, and global market consumer consumption. Dairy replacements have led the way recently with the mainstream adoption of brands like Little Island, Oatly, Califia Farms and Ripple Foods.
CULTIVATED
Laboratory cell grown products seek to replicate the natural meat or fish product but is developed in a lab. While this product shows promise they are some time from becoming commercially viable and there are varying levels of consumer acceptance.
ALTERNATE PROTEIN
Sources such as insects have historically been eaten in more emerging markets given nutrition and accessibility. Consumers in developed markets do consume the category in processed form i.e., powder. This category is still in the infancy stage given low customer acceptance. However, it is seeing growth as a replacement for animal feed to address challenges in global fish stocks and biodiversity. And as we struggle to feed the growing population, markets are also likely to change.
Sustainable Foods has invested strongly in its team which has a strong mix of business strategy, marketing, nutrition, food production and safety, product development. Our current team's backgrounds are noted below.