Introduction.
Not all kombucha is created equal. Batchwell proudly makes New Zealand's best tasting, small batch, organic kombucha, right here in, Auckland. 100% New Zealand owned, Batchwell is the market leader of probiotic beverages.
Founded in October 2016, Batchwell began when four kiwi friends were living in Los Angeles and fell in love with Californian kombucha — the tasty, effervescent brew that combined the flavours of soda with the gut-loving benefits of a probiotic drink. After returning to New Zealand, they decided to make their own. A no-BS kombucha that honoured its L.A. roots by being hand-crafted, batch-brewed and made using only the finest, organic ingredients and fresh pressed juice.
Harnessing the power of organic produce and perfecting our method over months of research, Batchwell was born — a kombucha that burst onto the scene and broke all the rules. But that was just the beginning. Realising that our award-winning kombucha made the perfect mixer, Batchwell combined it with top quality, quadruple-distilled spirits, freshly pressed juice, and a splash of sparkling water to create the ultimate summertime thirst-quencher — Blume, a Kombucha Cooler.
Since launching in late 2016, Batchwell has enjoyed rapid revenue growth to $630k, with consumers loving Batchwell's visually appealing and great tasting probiotic booch. The company is now raising up to $1m to invest in production capability, portfolio expansion and increased investment in sales and marketing activities for their non-alcoholic and alcoholic ranges.
Batchwell's growth strategy involves aggressively expanding the reach of their existing portfolio across the New Zealand hospitality and traditional liquor channels. Growth will also come from new products, with several key new products to be launched under the Batchwell brand, utislising their existing route to market and distribution channels.
Enabling this new product opportunity will be an investment in production capability and efficiency, with new equipment significantly increasing output, while reducing cost of goods. FY22 expected to show revenue growth of 295% as Blume trades for a full year and distribution gains and successful new product launches accelerate non-alcoholic growth.
This is your opportunity to join Batchwell at an exciting point in their growth journey.
Investment Highlights.
Market leader in the premium kombucha category with a focus on quality.
Unique proprietary formulation and brewing process, crafted over four years.
Well established brand within the New Zealand market, with exciting offshore potential.
Own the complete brewing and production process, ensuring quality and retaining maximum profit.
Significant growth opportunities in the fast growing, better for you alcoholic RTD category.
$4.26m forecast revenue in FY23, achieving positive EBITDA in FY22.
Voted New Zealand's best tasting kombucha in 2019 and gold award winner for packaging design at The Best Design Awards, 2018.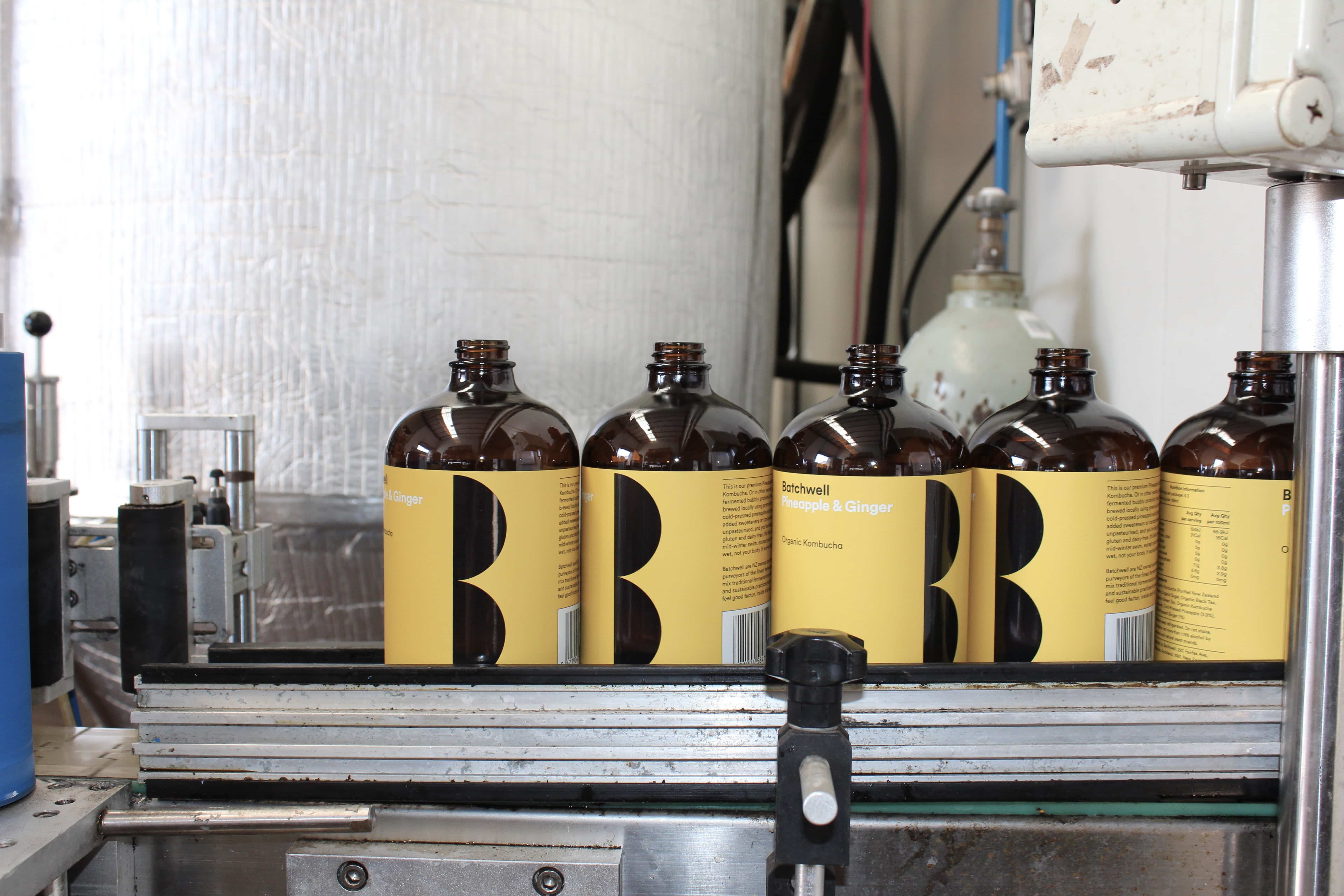 The Problem.
Your gut is made up of trillions of bacteria, and the good bacteria in your gut is responsible for many important body functions. When gut health is not good it can lead to an upset stomach, weight changes, fatigue and food intolerance.
For years kiwi consumers have been subjected to high sugar, artificially flavoured food and beverage offers which have little or no nutritional benefits. As the rate of obesity and type two diabetes grows, so does the debate about what we are eating and drinking.
The Solution:
Batchwell currently offers a range of alcoholic and non-alcoholic beverages that use the best organic ingredients where possible, are low in sugar, flavoured with whole ingredients, with the added probiotic benefits that can help improve your gut health. But we're not limiting ourselves to just beverages.
Batchwell is:
Lower in sugar – a third of a full sugar soda or juice
Certified Organic
Vegan and Gluten Free
Full of good bacteria
Competitive Advantage:
The New Zealand kombucha market is all low quality, imported products that are made from concentrates that are artificially flavoured and sweetened. Consumers demand quality, especially when looking for a gut health beverage. Batchwell brews in small glass jars in a traditional brewing method that creates high quality kombucha and sets it apart from the rest. It's BioGrow certified organic and proudly uses cold pressed organic produce for flavour. Produced in house, Batchwell's operation, production capability and brewing know-how is its defining asset. Crafted over five years, Rich and the team know how to produce authentic kombucha that kiwi's love.
Having built a premium brand with mainstream appeal, Batchwell is able to use its brand strength to expand its offering into other channels and categories. With health and wellness credentials Batchwell has begun using its brand to create new revenue opportunities, for example Blume, with the potential to own the health gut space in New Zealand and abroad.
Offer Details
Batchwell is seeking to raise up to $1m of capital via issuance of ordinary shares ranking equally with all current shares on issue.
---
Next Steps.
If you wish to receive more information about the capital raise for Batchwell, please leave your details and an indicative investment amount below. We will be in touch with all interested investors in due course.
---
About Snowball Effect
Snowball Effect is a New Zealand-based online investing marketplace, that enables New Zealand companies to offer shares to members of the public. Snowball Effect was founded in 2012 and launched in August 2014, after being one of the first to acquire an equity crowdfunding license from the New Zealand Financial Markets Authority (FMA). Over NZ$106 million has been raised on the platform.